Shannon and I have many discussions related to improving the way we serve our clients that often result in 'ah-hah' moments, but many times, we come to realizations much more slowly.  (Especially me!)  The title of this post is 'What is a Fine Art Portrait?' because we have begun to realize that we use this term a great deal and that we perhaps haven't defined it very well.  This post should provide a brief overview of what goes in to our fine art portraits here at our studio.
As in everything in life, all portraiture is not created equal.  First and foremost, does the image capture and portray an emotional bond or a timeless moment of the subjects in it?  This is sort of the 'entrance exam' of a fine art portrait - if the image doesn't have this quality, to us, it falls more into the 'snapshot' category.  Don't get us wrong, photography is probably 98% snapshots and they form an important part of the story of our lives, but they typically won't hang on a wall for your grandchildren to enjoy.
Once the image has been captured and we see that it has that magical quality that is deserving of a fine art treatment, we begin to explore our options.
If it is black and white, and for us this means it will be a relationship portrait, we will be looking at a museum style presentation under glass.  Just WHAT is mounted under that glass though?  This is where 'fine art' starts to really mean something.  With our black and white prints, the paper is a very heavy 100% fiber paper with a semi-gloss finish.  The very same type of paper that has been used in fine darkroom prints for well over a century.  Why does this matter?  Because, it has archival stability!  It is known and tested to be able to survive under proper conditions for well over a century.  When we mount these prints, we do so in a way that no adhesive ever touches the print.  Adhesives and acids wil degrade, age and yellow even the finest papers.  Once mounted, we again use an 8-ply acid free mat so that no chemicals come in contact with the print.  Finally, low glare UV resistant glass in a solid wood frame finishes the presentation.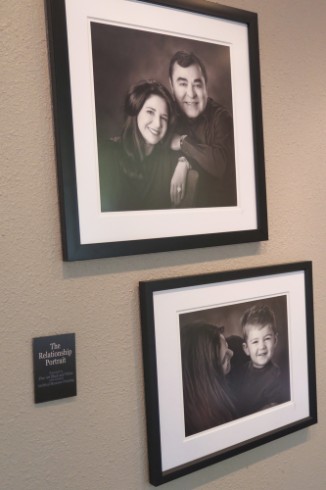 What about color?
With color, we look to fine art paintings, which have a VERY long history of archival stability.
Our fine art Signature Color painted portrait combines the work of multiple artists.  Once the image is selected, an 'underpainting' is created via a colaboration between Hayward and a fine art master printer which results in a high quality image using the most archivally sound pigments on the finest available artist's canvas to ensure it's long term stability. The final step is hand brushstroked application of genuine oils by another artist on top of this underpainting.  The result must be seen to be appreciated and takes a beautiful moment of your family to a level of artistry that will be passed down as a treasured heirloom of your family.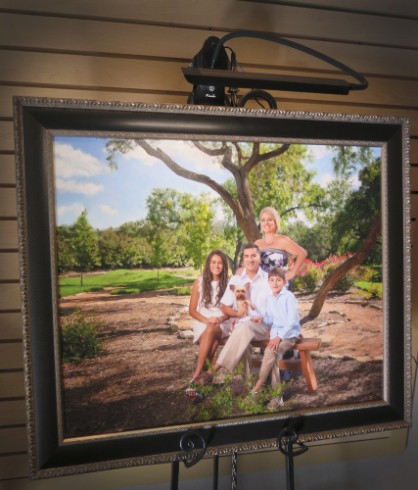 I know this has been a very technical post, but we hope it will help clients understand why we are very excited about our fine art portrait products being the very best of their kind available anywhere.  If you have never been to our new studio, why not stop by and say hello and see these portraits in person?  We'd love to meet more of our new neighbors here around The Alley!